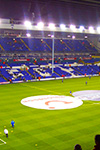 Tottenham - Monaco Europa League
DON, 10 DEZ 2015, White Hart Lane
Preis ab € 136.50
Info
* Das finale Spieldatum und die Anspielzeit werden 5-30 Tage vor dem Spieltag bekanntgegeben. Im Zweifel überprüfen Sie bitte die offizielle Webseite des Fußballclubs-
* Wochenendspiele werden am Samstag oder Sonntag gespielt, in seltenen Fällen am Freitag Abend.
* Spiele unter der Woche finden am Dienstag, Mittwoch oder Donnerstag statt.
* Änderungen innerhalb dieser Zeitrahmen können auftreten, wir bitten Sie, dies in Ihrer Reiseplanung zu berücksichtigen!
* Sie werden NIE Einzelplätze erhalten. Sie erhalten immer Sitzplätze neben, direkt vor oder direkt hinter Ihren Freunden. Dies garantieren wir Ihnen!
* Sie werden immer unter den Unterstützern der Heimmannschaft oder in der neutralen Zone platziert.
* Nach Fertigstellung Ihrer Buchung erhalten Sie eine Buchungsbestätigung/Annahmebestätigung mit E-Tickets direkt per E-Mail an Ihre E-Mail-Adresse.
* Alle Informationen zur Abholung oder Lieferung Ihrer Originaltickets stehen klar und deutlich auf Ihrem E-Ticket.
* Bei Abholung der Originaltickets benötigen Sie einen gültigen Lichtbildausweis und bei Bezahlung mit Kreditkarte, benötigen Sie ebenso die Kreditkarte.
* Wir empfehlen Ihnen, dass Sie unsere Geschäftsbedingungen für die Buchung von Fußballtickets sorgfältig durchlesen!


Kategorie
No 10 Club Lounge North Stand:
- Lower tier padded seats, North Stand
- Excellent view of the pitch
- Pre-match chef carved substantial deli-gourmet sandwich, with salads
- Served in modern well designed spacious stadium lounge
- Table seating available
- Cash bar(No free drink incl. in package)
- Half time tea/coffee included
- Match program
- Team sheet
- Spurs legend (former player) to visit lounge
- Opens 2 hours prior to kick off, open for 1 hour after final whistle
- Friendly informal atmosphere and families welcome

Lilywhite Lounge West Stand:



- Premium Executive Seats, West Stand, Long Side




- LILYWHITE Lounge Package




- Seats supplied together, always!




- Pre-match chef carved gourmet sandwich buffet with salad bar




- Served in stadium restaurant, direct access from seats




- Half time refreshments (tea/coffee)




- Former Spurs player in attendance ( photo opportunities and autographs )




- Complimentary match program on entry to lounge




- Cash bar available




- Informal seating in restaurant, relaxed atmosphere




- Families and children welcome




- No dress code ( except no opposition football shirts )




- Betting available in stadium



Standard Tickets:
- Long side or Short side tickets

Premium Executive Seats, incl. Pre-match buffet:

- Tickets are always at the North West Corner overlooking Spurs home fans in the famous North Bank.
- Includes a Pre-match buffet served 2 hours before the game in one of the stadiums restaurants.
- Matchday programme.
- Tea, coffee and refreshments.
- Cash bar available at half-time and after the game.
- No dress code(except no opposition football shirts), a relaxed atmosphere and families and children are welcome.

Box Seats Long side:

- Fantastic long side seat position, between edge of penalty box and half way line
- Seat location directly above first tier with clear view to pitch and substitutes bench
- Comfortable wide seats, weather protected as seats are behind expansive panoramic glass
- Access to VIP box holders lounge – ex-players often in attendance
- Drinks available to purchase in lounge
- Team sheets distributed to boxes
- Stadium and VIP lounge open 2.5 hours prior to kick off, until one hour after final whistle
- There is no strict dress casual, but no ripped jeans, or away football shirts – home shirts are allowed.
Letzte Treffer
Tottenham vs Monaco Europa League, DON, 10 DEZ 2015