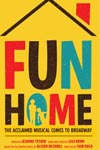 Fun Home
Circle In The Square Theatre
Preis ab € 127.50
Das Musical Fun Home handelt von der Comiczeichnerin Alison, die unerwartet ihren Vater verliert und sieht sich gezwungen sieht tief in ihre eigene Vergangenheit zu tauchen, um die Geheimnisse rund um  ihren brillanten jedoch launischen Vater zu entdecken, dessen Temperament ihre Familie und ihr Leben prägten.
Zwischen Vergangenheit und Gegenwart wechselnd erlebt Alison ihre einzigartige Kindheit erneut und sieht sich spielend im Bestattungsunternehmen der Familien, erinnert sich an ihre erwachende Sexualität und die bedrohlichen und nicht beantworteten Fragen über die Geheimisse ihres Vaters.
Sehr gut
4.0
Bewertung von 1 Kunden
A different kind of musical!
I booked the ticket before it won the Tony Awards for Best Musical, so of course I was really excited to see the piece, that won this year. I sat front row and already when entering the theatre it felt completely different from all the other musicals, because the audience surrounded the stage and it felt very intimate. The story is beautifully written and adapted by the comic book, there are some funny moments as well as sad ones. The songs weren´t completely my taste of music, but all actors and especially the children were fantastic in every second of the show. It is like a chamber musical, which can hold up against all the big shows, with their love, passion and dear true story they are telling.