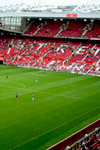 Manchester United - Newcastle
SAM, 22 AUG 2015, Old Trafford
Preis ab € 127.70
Info
* The final match date and kick-off time is confirmed 5-30 days prior to the match day. If in doubt please check the official club website. Changes within the date frame are beyond our control and we ask that you are aware of this when making your travel plans!
* You will NEVER get any single seats. You will always get seats next to your friends, right in front or right behind your friends. This is our guarantee from us to you!
* You will always be seated among home supporters or in a neutral zone.
* When you have completed your booking a booking confirmation/receipt and your e-tickets will be send to your e-mail address immediately.
* All information regarding collection or delivery of your original match tickets will be clearly stated on your e-ticket.
* We highly recommend that you carefully read our terms and conditions for booking football tickets!

Below you can read more about the seating and categories available for this football match.
Kategorie
NORTH STAND / SALFORD TICKETS INCL:
*Sir Alex Ferguson Stand (North Stand)
*Luxuriös gepolsterte Sitze an oder nahe der Mittellinie (Rang 2)
*Zugang zu Salford Suite drei Stunden vor Spielbeginn und eine Stunde nach Spielende
*Cash bar
*Halb-Zeit Tee und Kafee
*Spieltag Progamm
*Quadrant Sitze North East / West Quadrant
*Luxuriös gepolstere Sitze (Rang 2)
*Zugang zu Ihrer Suite drei Stunden vor Spielbeginn und eine Stunde nach Spielende
*Carved Sandwiches können gekauft werden.
*Cash bar
*Halb-Zeit Tee und Kaffee
*Spieltag Programm
Kleidervorschrift:
Alle Gäste, auch Kinder, werden gebeten sich angemessen zu kleiden. Angemessen im Sinne eines smart casual dress codes (leger und elegant) in der Hospitality Lounge. Der Klub hat das Recht unangemessen gekleideten Personen den Zutritt zu verweigern.
Sie müssen Ihre Tickets im Hospitality Window im Ticketing & Membership Service Gebäude abholen, welches hinter dem Sir Alex Ferguson Stand im West Car Park liegt.
Letzte Treffer
Manchester United vs Newcastle, SAM, 22 AUG 2015
Manchester United vs Newcastle, FRE, 26 DEZ 2014
Manchester United vs Newcastle, SAM, 07 DEZ 2013
Manchester United vs Newcastle, SAM, 26 NOV 2011 oder SON, 27 NOV 2011