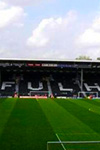 Fulham FC - Southampton
SAM, 01 FEB 2014, Craven Cottage
Preis ab € 58.80
Info
* The final match date and kick-off time is confirmed 5-30 days prior to the match day. If in doubt please check the official club website. Changes within the date frame are beyond our control and we ask that you are aware of this when making your travel plans!
* You will NEVER get any single seats. You will always get seats next to your friends, right in front or right behind your friends. This is our guarantee from us to you!
* You will always be seated among home supporters or in a neutral zone.
* When you have completed your booking a booking confirmation/receipt and your e-tickets will be send to your e-mail address immediately.
* All information regarding collection or delivery of your original match tickets will be clearly stated on your e-ticket.
* We highly recommend that you carefully read our terms and conditions for booking football tickets!

Below you can read more about the seating and categories available for this football match.
Kategorie
POWERED BY TRAVEL CONNECTION

Putney End:


- Block P1 – P7
- Putney End Sektion im Craven Cottage Stadium
- Einer der wenigen noch verbliebenen historischen Schauplätze der Fußballgeschichte Londons
- Im neutralen Fan-Bereich
- Kinder und Familien willkommen
Für einige Spiele bieten wir Tickets mit "Restricted View", was bedeutet, dass ein Pfeiler, ein Teil des Daches, eine Kamera oder andere Fans Ihre sich auf Spielfeld und Fußballtor einschränken können!
Letzte Treffer
Fulham FC vs Southampton, SAM, 01 FEB 2014
Fulham FC vs Southampton, MIT, 26 DEZ 2012