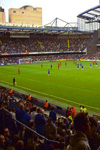 Chelsea FC - Manchester U
SON, 08 NOV 2009, Stamford Bridge
Preis ab € 425.40
Info
* The final match date and kick-off time is confirmed 5-30 days prior to the match day. If in doubt please check the official club website. Changes within the date frame are beyond our control and we ask that you are aware of this when making your travel plans!
* You will NEVER get any single seats. You will always get seats next to your friends, right in front or right behind your friends. This is our guarantee from us to you!
* You will always be seated among home supporters or in a neutral zone.
* When you have completed your booking a booking confirmation/receipt and your e-tickets will be send to your e-mail address immediately.
* All information regarding collection or delivery of your original match tickets will be clearly stated on your e-ticket.
* We highly recommend that you carefully read our terms and conditions for booking football tickets!

Below you can read more about the seating and categories available for this football match.
Kategorie
West Stand Tickets includes:
* Upper tier long side seat location
* Superb view of pitch
* Under roof, weather protected
* Conventional paper tickets, supplied together always
* Home and neutral fans welcome
* Perfect for children and families
* Stadium opens 2.5 hours before kick-off
West Stand and Tea Bar Tickets includes:
* Upgraded location in West Stand Upper Tier (long side location, block 2)
* Seat position between halfway line and edge of penalty box
* Tea Bar opens 3 hours prior to kick-off
* Located next door to Mega Store
* Pre-match three-course table service served menu with choice of dishes per course
* Complimentary bar (beer, wine, soft drinks) served with pre-match meal
* Informal relaxed atmosphere, children and families are welcome
* Guaranteed table reservations
* Complimentary match program
* Team sheet
* Betting facilities
* Post match sandwich buffet and tea/coffee served in Tea Bar
* No strict dress code, although football shirts are not permitted

Short Side
* Regular short side seats in AWAY section
* No HOME team colors to be worn!

POWERED BY TRAVEL CONNECTION
Hotel
HOTEL:
Für Chelsea Spiele verkaufen wir
West Stand Tickets
inklusive Übernachtung in einem der folgenden Hotels für 2 Nächte (Samstag bis Montag) oder 3 Nächte (Freitags bis Montag):
Royal National Hotel
(**): Das größte Hotel im Zentrum Londons mit 1630 Zimmern nahe des Russel Square. Schlichte Zimmer mit den grundlegenden Annehmlichkeiten. Freies WiFi im Hotel und den Zimmern. Frühstück im Preis inkludiert.
Kensington Close Hotel
(****): Perfekt gelegenes Hotel nahe den Geschäften von High Street Kensington. Das Hotel verfügt über einen privaten Garten, Fitnesscenter, Spa und Pool. WiFi in allen Räumen (nicht gratis). Frühstück im Preis inkludiert.
Cumberland Hotel
(****): Großartiges Hotel nahe Oxford Street und Marble Arch. Modernes und trendiges Hotel. Freies WiFi im Hotel und den Zimmern. Frühstück im Preis inkludiert.
Sie können hier Zweibett – oder Dreibettzimmer buchen.
In seltenen Fällen muss Ihre Hotelwahl nach Bestätigung Ihrer Buchung geändert werden. In diesen Fällen bestätigen wir Ihnen immer ein Hotel ähnlichen Standards, wenn nicht sogar besser!
Ihre Fußballtickets werden Ihnen ins Hotel geliefert, Sie erhalten Sie beim Check-In.
Wie bei der Buchung aller Fußballtickets gilt auch hier – nach erfolgreicher Buchung, Bezahlung und Bestätigung können Fußball – und Hotelpackages nicht mehr geändert oder storniert werden.
Letzte Treffer
Chelsea FC vs Manchester U, SON, 23 OKT 2016
Chelsea FC vs Manchester U, SON, 07 FEB 2016
Chelsea FC vs Manchester U, SAM, 18 APR 2015
Chelsea FC vs Manchester U, SON, 19 JAN 2014
Chelsea FC vs Manchester U, SON, 28 OKT 2012
Chelsea FC vs Manchester U, SON, 05 FEB 2012
Chelsea FC vs Manchester U, DIE, 01 MÄR 2011
Chelsea FC vs Manchester U, SON, 08 NOV 2009