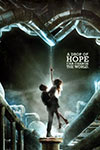 Urinetown the Musical
Apollo Theatre
Preis ab € 36.80
Urinetown the Musical in London handelt von Wahrhaftigkeit, Hoffnung und Liebe und ist mehr als nur ein Wunschtraum. Buchen Sie Ihre Tickets für Urinetown the Musical in London hier!
Urinetown the Musical wird präsentiert von Julian Stoneman Assoicates und The Araca Group, unter der Regie von Jamie Lloyd.
URINETOWN ist eine Polit- und Sozial-Satire in einer fiktionalen Zukunft, in der eine schreckliche Dürreperiode über 20 Jahre die Wasservorräte der Stadt erschöpft hat. Wasser ist so wertvoll geworden, dass die Regierung eine Sperre aller privaten Toiletten anordnet um Kontrolle über den Wasserverbrauch zu erlangen. Die Stadt ist reif für eine Revolution und jede Revolution hat ihren Helden. Oder doch nicht?
Urinetown the Musical Reviews
"Had me laughing like a drain"
Sunday Telegraph
---
"Spend-a-Penny Opera that's a welcome relief"
The Guardian
---
"Daring and original show"
Daily Telegraph
---
"Urinetown boasts a truly gleeful inventiveness"
Evening Standard
---
"Jamie Lloyd … a fine director of musicals"
Financial Times
---
"Jamie Lloyd has assembled an A-team of talent from across the theatrical spectrum"
Time Out
---
"The Beggars Opera updated by the South Park team"
Metro
---
"The show's got bags of swing, wit and sheer panache"
Mail on Sunday
---
"A musical that dares to be both camp and political"
The Observer
---