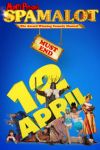 Spamalot
Playhouse Theatre
Preis ab € 88.30
Spamalot the Musical in London is back on Harold Pinter Theatre!. Do not miss Monty Python's Spamalot while in London, book your tickets for Spamalot in London Here!

Audiences all around the world have been roaring with laughter since Monty Python's Spamalot, by Eric Idle and John Du Prez, won the Tony Award for Best Musical in 2005.

Spamalot tells the legendary tale of King Arthur and the Knights of the Round Table and features a bevy (or possibly a brace) of beautiful show girls, witch burnings (Cancelled too expensive) not to mention cows, killer rabbits and French people.

The show features the hilarious songs He Is Not Dead Yet, Knights of the Round Table, Find Your Grail and of course the Nation's Favourite Comedy Song (Reader's Digest Poll 2009) Always Look On the Bright Side of Life.

Don't miss your night with the Knights of The Round Table at the most infectiously funny musical of the millennium.
Fantastisch
5.0
Bewertung von 3 Kunden
Gymnastik für das Zwerchfell
Dieses Musical empfehle ich allen, die wieder einmal herzlich lachen möchten. Wir sahen die Londoner Aufführung, die von Anfang bis Ende ein echter Spaß war. Weder die Handlung, noch die Musik sind künstlerisch anspruchsvoll, es ist eigentlich nur Klamauk, aber unglaublich lustig (wenn man zwischendrin auch englischen, etwas schwarzen Humor mag) - eben Monty Python. Was mir vor allem Freude gemacht hat, ist zu sehen, welchen Spaß die (hervorragenden!) Darsteller selbst hatten, und das, obwohl sie zwei bis drei Vorstellungen pro Tag haben. Ich würde mir dieses Musical jederzeit gerne nochmal anschauen.
Spamalot- der absolute Welthit!!!
Es war einfach großartig!!!
Super tolle Inszenierung!
phantastische Schauspieler!
grandiose Band!
Ich hab selten so gelacht!
Danke Danke Danke!
Ein tolles Stück !!!
Waren Di. 26.03. in der Vorstellung. Die Vorbestellung aus Deutschland hat perfekt geklappt. Der Text war sehr gut zu verstehen. Die eingebauten Aktualisierungen z.B. Justin B. und Lady Gaga halten das Musical aktuell.
Schönes Theater. Super Schauspieler und eine tolle Sängerin.
Einzige Mini-kritik...die Garderobe ist sehr klein und kaum jemand nutzt diese, sondern alle nehmen die Sachen mit in den Theaterraum, das hat etwas von Kino.
Spamalot Reviews
"I felt I might actually die of laughter."
The Independent
---
"It's a wonderful night and I fart in the general direction of anyone who say otherwise."
The Daily Telegraph
---
"Very funny? You bet. You'd have to be a dead parrot not to agree."
The Times
---